Immerse yourself in the enchanting beauty of America's national parks with our exquisite collection of National Park Postcards. These compact treasures are perfect for bringing the essence of the parks into your home, office, or as a thoughtful sentiment for a special someone. Inspired by the WPA-style, each postcard captures the wild grandeur of our national parks, serving as captivating conversation starters, sources of inspiration, and emblems of your appreciation for nature's wonders.
Our National Park Postcard Series
Save 30% on our Boxed Set of 72 National Park Postcards
Discover the ultimate treasure trove for national park enthusiasts with our beautifully crafted boxed set of 72 National Park postcards. This meticulously curated collection makes it an exceptional gift for lovers of the great outdoors.
Priced at just $55, this boxed set offers incredible value, giving you access to a diverse collection of national park postcards at a fraction of the regular price. Normally valued at $80, this set is a steal, especially considering the inclusion of the box. Whether you're sending them to friends, framing them for display, or keeping them as mementos, these postcards bring the beauty of America's national parks into your life and the lives of those you share them with.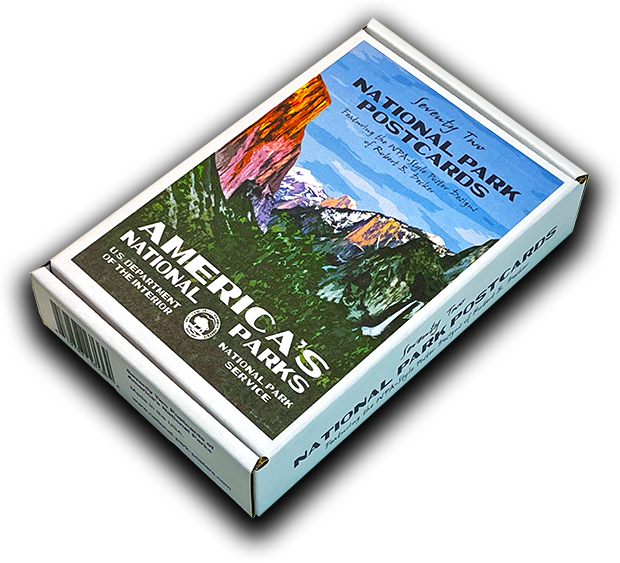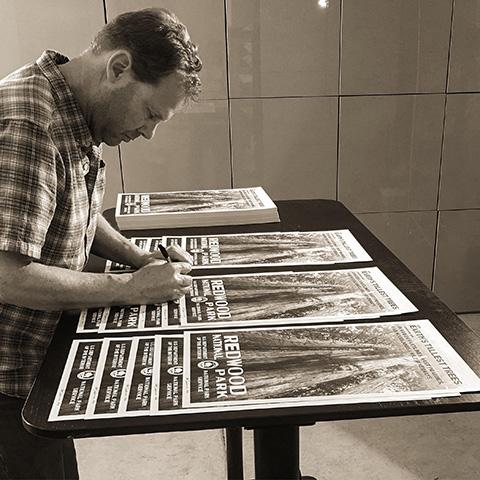 My name is Rob Decker, and I'm a seasoned photographer and graphic artist whose heart beats for America's majestic National Parks. My journey began when I studied under Ansel Adams in Yosemite National Park when I was jut 19 year old...and has blossomed into a lifelong mission to capture and share the vibrant culture, rich history and awe-inspiring beauty of our country's national parks.
My artwork will not only rekindle your cherished park memories, but it also champions the preservation of these national treasures for future generations (I donate 10% of annual profits to organizations that support our National Parks). Immerse yourself in the nostalgic charm of these National Park Posters and become a part of this worthy cause.
Hit the button and shop now! This is a unique opportunity to reconnect with your cherished National Park memories without breaking the bank. Time is of the essence, grab your preferred postcards, and immerse yourself in the splendor of pristine wilderness right now!
These postcards serve as versatile keepsakes, perfect for sending heartfelt messages, creating a personalized gallery on your wall, or using as bookmarks. They make excellent gifts for national park enthusiasts, allowing them to hold a piece of their favorite natural havens in their hands. Don't miss out on this chance to celebrate the beauty of America's national parks and share it with others!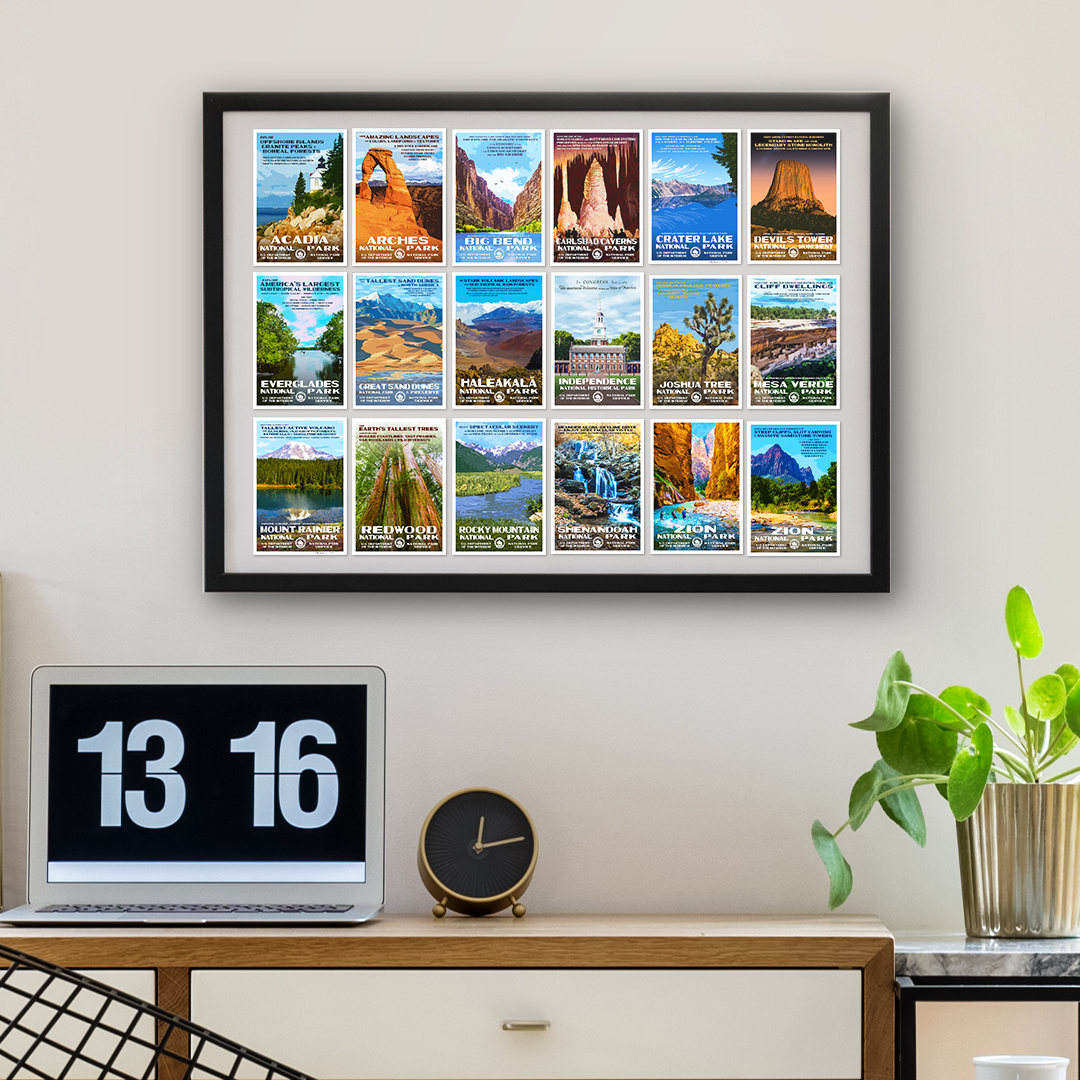 ⭐⭐⭐⭐⭐
Love these postcards...
A beautiful way to remember all the Parks and Monuments we've visited!
— James W., Aurora, CO
⭐⭐⭐⭐⭐
These National Park Postcards Are Great!
Fantastic set and so happy these were available. I have the 8 different artist proof prints of parks from Rob but these cards were exactly what I was looking for to turn others onto the greatness of our National Parks. Thanks so much - fast shipping, great packaging - overall 5 stars!!!
— Howie S., New Buffalo, MI
⭐⭐⭐⭐⭐
We mail these out... 
I mail postcards to my grandkids every week. These are just perfect, and I hope the boys will be inspired to visit all of these places one day!
— Valerie L., NYC, NY
   National Park Posters is Celebrated and Featured by these Notable Publications   
Your Monthly Gateway to Nature's Marvels: The 2024 National Park Posters Calendar!
Experience the breathtaking beauty of America's pristine landscapes with a calendar that's as unique as your adventures.
This eye-catching calendar features 12 iconic WPA-style posters of some of America's most beautiful national parks. Sure to please nature lovers and photography fans alike, enjoy these majestic parks all year long while knowing you are doing your part to help preserve the parks for generations to come.
Order the 2024 National Park Posters Calendar for home, office or home office today.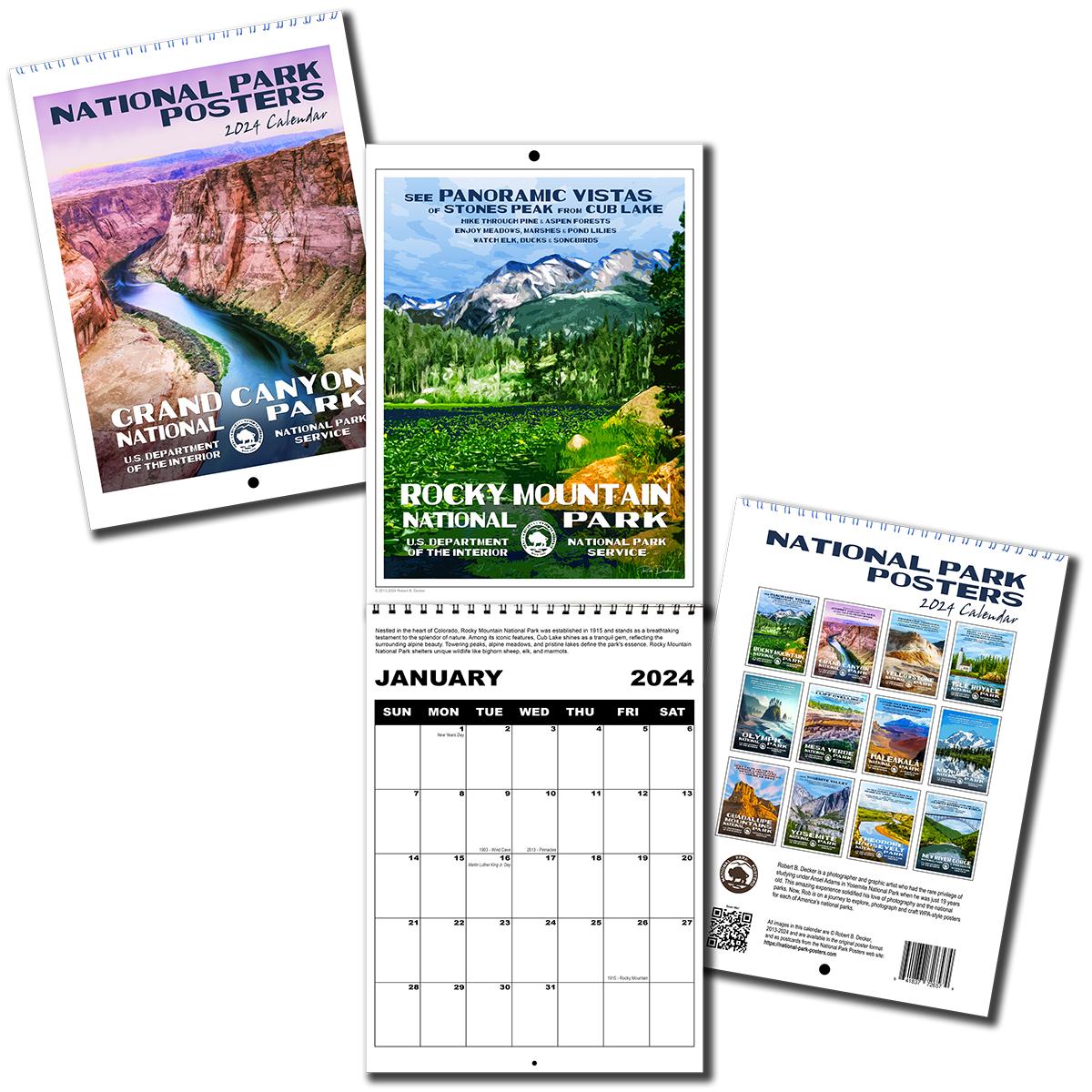 Join the growing community of 80k+ National Park enthusiasts to receive insider deals and updates.
See why 80k+ National Park fans have already joined...