Great Smoky Mountains National Park: A Realm of Natural Beauty
Nestled on the border between North Carolina and Tennessee lies a jewel that captivates nature lovers, adventure seekers, and outdoor enthusiasts alike: Great Smoky Mountains National Park.
A Haven for Visitors
With a staggering 12,937,633 annual visitors, this majestic park stands proud as the most visited national park in the United States. But what makes it so special? The numbers only begin to tell a story of the treasures that lie within.
Biodiverse Forests: A Spectrum of Life
A Flourishing Ecosystem
From dense fog that often envelopes the mountaintops, the park gets its 'smoky' moniker. This atmospheric moisture plays a crucial role in nourishing a vastly biodiverse ecosystem. The park boasts:
Over 100 native tree species
Thousands of different plant varieties
A myriad of animal species, many of which are endangered
The ancient forests have stood the test of time, offering shelter and sustenance to countless organisms.
Witnessing Wildlife
The Smokies teem with wildlife. On any given day, you might spot:
White-tailed deer grazing in the meadows
Black bears foraging for food
Elusive bobcats prowling the shadows
For bird lovers, the park serves as a veritable paradise with more than 200 species recorded.
Trails, Waterfalls, and Adventures
Hiking Through History
The Smokies are crisscrossed with over 800 miles of hiking trails. From easy strolls to challenging backcountry hikes, there's something for everyone:
Clingmans Dome: The highest point in the park, offering panoramic views.
Alum Cave Trail: A moderately difficult hike leading to a stunning cave.
Waterfalls Worth the Walk
Water cascades down mountainsides, creating picturesque waterfalls. Some of the most popular ones include:
Laurel Falls: An 80-foot high waterfall, easily accessible via a paved trail.
Ramsey Cascades: The park's tallest waterfall, a treat for those willing to take on the challenging hike.
Blooms and Blossoms
From early spring to late summer, the park is a riot of colors. Wildflowers bloom in abundance, with over 1,500 varieties gracing the park, including:
Flame azaleas
Trilliums
Lady's slippers
These blooms paint the meadows, forests, and valleys, adding to the park's enchanting beauty.
Preserving Memories with Rob Decker's National Park Posters
Art Meets Nature. After an exhilarating journey through the Smokies, what better way to preserve those memories than with a piece of art? Rob Decker, a photographer and artist, has been capturing the essence of national parks through his WPA-style posters.
The WPA-Style Poster for Great Smoky Mountains National Park
His creation for the Great Smoky Mountains perfectly encapsulates the park's allure. With a vintage touch reminiscent of the 1930s and 40s, the poster features:
Iconic vistas of the park
Rich colors that resonate with the park's natural beauty
A timeless design that fits perfectly in homes, offices, or even as gifts
Rob Decker's National Park Posters are not just art; they are stories, memories, and a tribute to America's grandeur.
---
Great Smoky Mountains National Park offers an immersion into nature's magnificence. Whether you're a first-time visitor or a seasoned traveler, the park never ceases to amaze. And with a keepsake like Rob Decker's poster, the magic of the Smokies can always be within arm's reach.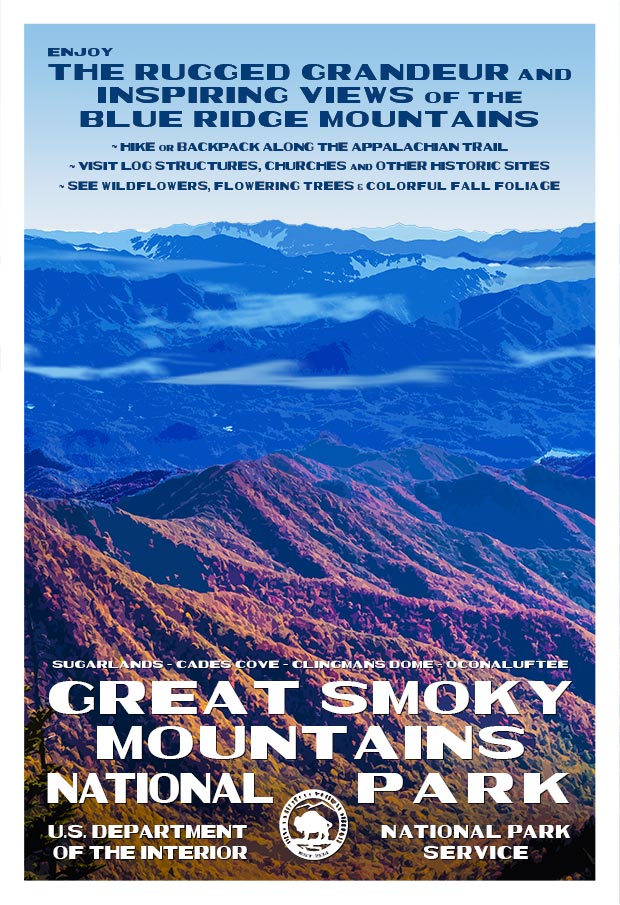 ---
Meet the Artist, Rob Decker
Immerse yourself in the captivating journey of Rob Decker, a seasoned photographer, imaginative artist, and skilled craftsman, whose heart beats for the golden era of the WPA's aesthetic charm. As fate would have it, a young 19-year-old Rob found himself amidst the ethereal landscapes of Yosemite National Park, honing his lens under the tutelage of the legendary Ansel Adams. Today, Rob is weaving the past with the present, resurrecting the WPA-era essence through his evocative National Park posters. It's as if he's embarked on a creative pilgrimage, tracing the brushstrokes of the bygone masters, and adding his own modern flair, crafting a unique collection of poster art that resonates with today's wanderlust souls.
Each meticulously designed Limited Edition poster, Artist Proof, and postcard that flows from his studio isn't just a piece of art, but a pledge to Mother Earth. Proudly printed in the heart of Colorado by one of America's most eco-conscious printers, every stroke of ink on the "Conservation" - a 100% recycled, domestically sourced paper stock - resonates with the ethos of sustainability, thanks to the eco-friendly soy-based inks he uses. Rob Decker's creations are more than mere posters; they are windows to a time less explored, a nod to the masters of yore, and a testament to sustainable artistry.
---
Join the growing community of 80k+ National Park enthusiasts to receive insider deals and updates.
See why 80k+ National Park fans have already joined...
---